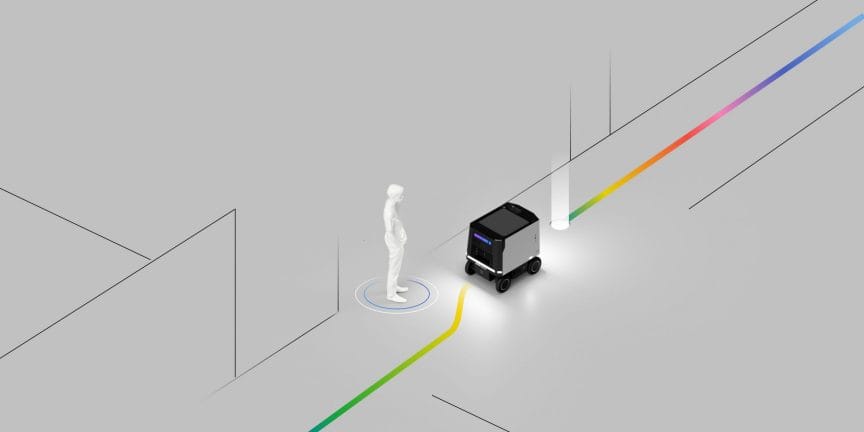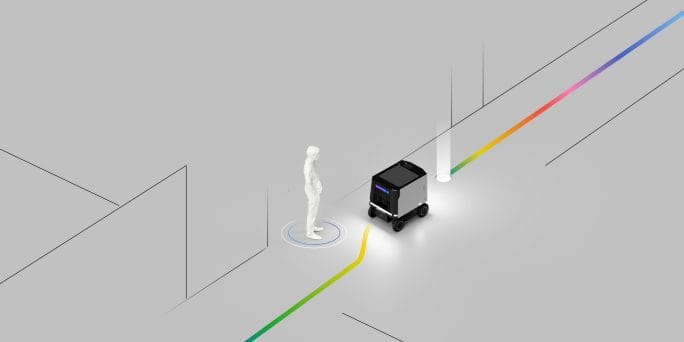 The Siemens Startup program helped Earth Robotics put fully autonomous robots into high-rise buildings as a last-contact package-delivery solution. 
Earth Robotics Inc., a robotics startup company based in Miami, Florida, has developed a fully autonomous delivery robot affectionately named "Lu."
In this Siemens startup podcast, Amir Emacha, co-founder and COO of Earth Robotics Inc., explains how humans can use robots as tools for making life better – and how Maya HTT and the Siemens Startup program helped them develop "Lu."
A vision of robots for a better future
The robotics startup takes a distinctly human-centered approach to their products. According to Amir Emacha, everyone needs to have access to robots. He envisions creating an ecosystem of robots to help humans with specific tasks.
"We found the Earth without robots; we leave the Earth with them. Earth Robotics is a robot company for the Earth and for humans." – Amir Emacha
Emacha believes there is no reason to be concerned that robots will replace people in their jobs. Rather, he says, they will help people by removing unappealing, routine and repetitive tasks, and "democratizing" robots will leave the world a better place.
Challenges of a hard-tech startup company
Unlike software startups, "hard-tech" companies like Earth Robotics face two-in-one challenges. They must develop both the software and the hardware for their product or solution, keeping everything in sync.
And of course, they also rely on third-party software, such as solutions from Siemens. Startups may not have the budget for best-in-class software such as NX, Simcenter, STAR CCM+ and Amesim. This is why Maya HTT and Siemens offer specially bundled software for startup companies like Earth Robotics.
"Maya HTT was very helpful because they guided us in what we actually needed and guided us in pricing." – Amir Emacha
Delivery robots? "Lu" bet!
Earth Robotics is pushing beyond the last-mile delivery and using robotics emerging technology to provide "last-300-feet delivery" or "last contact."
As a 100% autonomous solution, Lu is expected to replace delivery lockers and solve the problems building management companies have with the incredible number of packages being delivered each day.
What can a level 5 robot do?
What makes Lu different from other delivery robots is that Lu is a level 5 fully autonomous vehicle. It works inside a controlled ecosystem – whether an office building or a residential building – to take packages from the front door to the unit door.
Level 5 robots have the capacity to think and make choices in real-time – not just any choices, but the best choices.
Whereas level 3 autonomous robots have to follow rules and cannot recalculate on their own when the environment changes, Lu makes all the decisions for itself within its controlled environment.
Creating a controlled environment for Lu
For the pilot project, Lu will be deployed in a building in Miami that has 700 units and receives more than 400 packages per day. In preparation, hardware, cameras and an elevator control system had to be installed, and the whole building had to be scanned and mapped to create a mesh inside the building.
With the help of cameras and routers for 360-degree vision, Lu "sees" the whole room in 3D, in real-time. This is what Lu uses to make decisions.
Lu also works in concert with an app provided to building occupants and delivery drivers and communicates with humans through emojis.
"Maya HTT helped us with some Siemens programs and helped us a lot overall to choose the right tools for what we needed in the moment." – Amir Emacha
What will the future hold for robots like Lu?
Once the robot ecosystem is installed in a building, new types of services could be added. Today, Lu takes a package from A to B, autonomously. Tomorrow, perhaps it will help carry groceries or perform cleaning tasks. There's a lot still to explore and learn.
Succeeding with robots like Lu depends on ensuring the solution is something end users want to have. Communication with end users is the key.