Better solutions for Architecture, Engineering & Construction
.

When designing and constructing commercial properties, architects and engineers must evaluate energy conservation, air quality, acoustics, and sustainability. As public organizations and commercial enterprises are facing more requests for environmental accountability and transparency, constructing environmentally responsible buildings  is not just a matter of managing short term enhancements, but of conceiving a sustainable lifetime design for the  new facilities.
Architects, engineers, designers and builders all face the same challenge when designing and constructing environmentally friendly commercial properties. With 30 percent of a building's life cycle cost focused on energy, designs that reduces emissions and provide overall sustainability has become a necessity for regulatory compliance, financial viability, and the design team's reputation. One key tool for building designers and architects is the "digital twin", which is the ability to preview and design an extremely energy-efficient building.
3D modeling solutions for infrastructure design and construction
Maya HTT provides software solutions and expertise for architecture, engineering and construction (AEC) professionals that help optimize and test designs for sustainability, compliance, safety and cost-efficiency.
Thermal comfort, air quality, ASHRAE standard compliance and acoustics are only a few examples of how Maya HTT have supported AEC professionals in the past. Specialist in using advanced 3D simulation tools and also expert for creating new simulation tools, Maya HTT can help test and improve any architectural and engineering design and understand any mix of complex factors. Contact us today to learn more about how simulation can help you with your building Architecture, Engineering and Construction needs.
Helping AEC professionals evaluate, test and optimize their designs for sustainability, compliance, safety and cost efficiency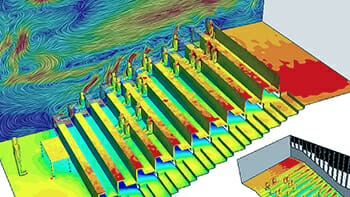 Thermal comfort
Using a 3D BIM model or working directly with the preliminary geometry, our simulations and analysis, let you evaluate fluid velocity, temperature maps, PMV (Predicted Mean Vote) and PPD (Predicted Percent Dissatisfied) humidity results, mean radiant temperature, air flow and air change effectiveness, and more.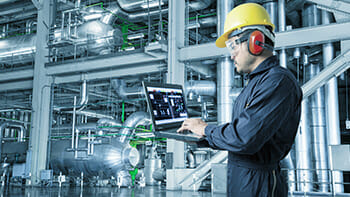 Air quality and contaminant
The presence of contaminants in the air can be difficult to predict. A 3D simulation is an economically viable alternative for analyzing indoor air and outdoor air quality, since it requires no physical installation and can be done before the construction occurs.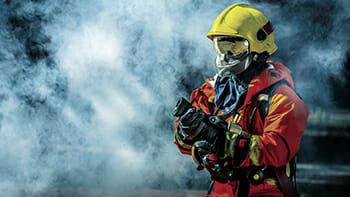 Fire safety and smoke
Fire safety is a crucial element of a building design. 3D computational fluid dynamics (CFD) technology is the most cost efficient way to simulate what would happen in case of a fire.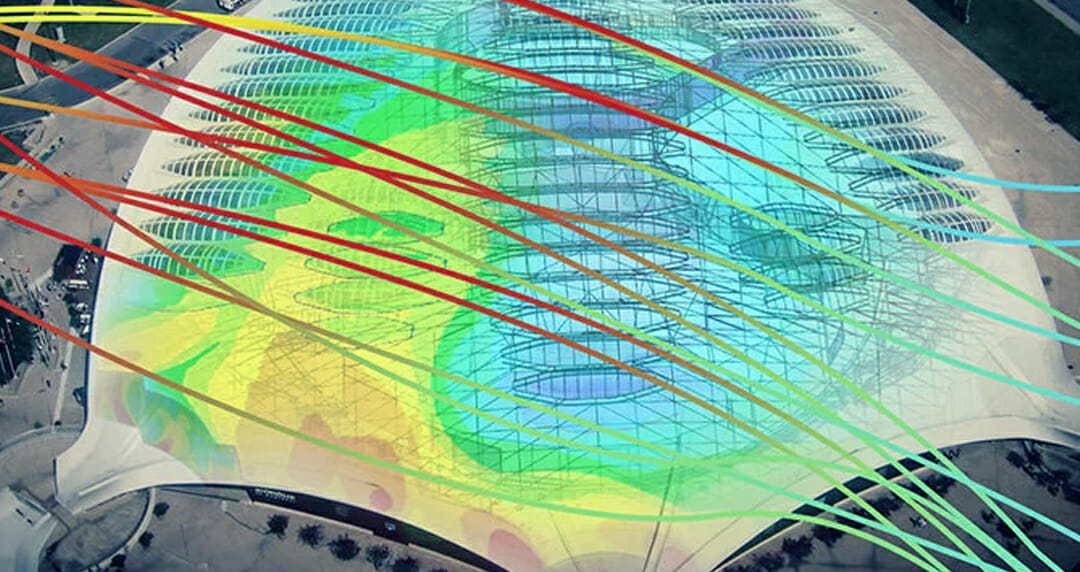 Solar gains
When designing a LEED-certified building or attempting to meet the standards set by a different sustainability rating system, engineers often need to evaluate the thermal effects of the sun on a building for a day, or a specified time period. Maya HTT's software helps analyze the effects of solar heating on construction materials.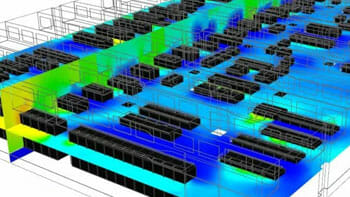 Natural ventilation
Building a functional natural ventilation system can be extremely complex. Maya HTT can help architects and engineers complete an in-depth analysis to optimize the design. The 3D simulations that are created will give an accurate picture of air quality and thermal comfort.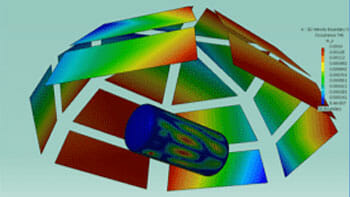 Noise and acoustic
Engineers using advanced 3D simulations can use vibro-acoustic solutions to study how noise travels in a building. These simulations are used to test and improve the design of a building that needs good architectural acoustics.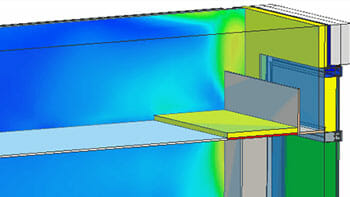 Building envelope and condensation
Engineers using our advanced 3D simulations can analyze vibro-acoustic solutions to determine how noise travels in a building. These simulations are used to test and improve the design of a building that requires optimal architectural acoustics.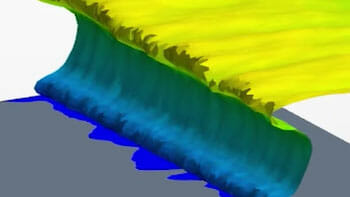 Coastal engineering and wind analysis
We use advanced simulation techniques such as free surface flow modeling to assess how waves and wind will interact with a structure built in a coastal location.
Industry-leading solutions
for a competitive edge
Maya HTT provides a wide array of products and services tailored to your needs.
When a solution is not available, we can develop and customize one for you.
How Simcenter 3D allows you to evaluate Chloramines off-gas in a Natatorium
Natatoriums often require detailed analysis of the airflow and how the building's architectural features interact with the HVAC system components. Here's a Chloramines off-gas analysis from the pool's surface based upon the pool's surface activity and chloramine (NCl3) concentration levels in the pool.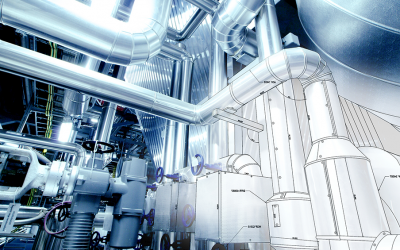 Find out how Bâtivac contributed to a quieter, tidier, and healthier parking environment for the CHUM's clientele. Maya HTT's expertise and analysis helped Bâtivac validate the ventilation system and reduce costs, contributing to building a truly safe and modern urban health facility.
Read more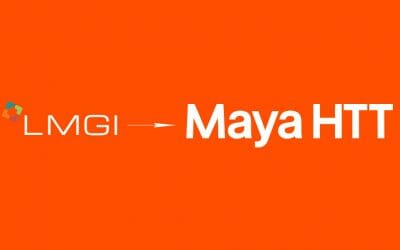 Maya HTT, industry-leading engineering software developer and services provider, acquired LMGI, another engineering services provider.
Read more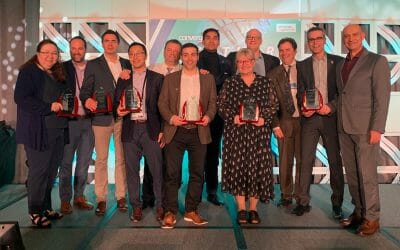 As we look back on 2019, we are grateful for the opportunities we have had to grow and help our clients succeed.
Read more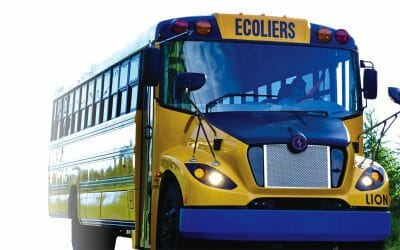 The latest issue of Siemens' Engineer Innovation magazine (Issue #3) features the Lion Electric Co., with a close look at how this sustainability-minded company successfully modeled and optimized its battery design and thermal management.
Read more
Interested?
Contact us for more information.
Subscribe to our newsletter