Simcenter 3D delivers a unified, scalable, open and extensible environment for 3D CAE with connections to design, 1D simulation, test and data management
Siemens PLM Simcenter 3D (Previously NX™ CAE)
Simcenter 3D delivers a unified, scalable, open and extensible environment for 3D CAE with connections to design, 1D simulation, test and data management. Simcenter 3D speeds the simulation process by combining best-in-class geometry editing, associative simulation modeling and multi-discipline solutions embedded with industry expertise.
Contact Us Now To Learn More!
Simcenter 3D integrates fast and accurate solvers that power structural, acoustics, flow, thermal, motion and composites analyses, as well as optimization and multiphysics simulation. Simcenter 3D is available as a standalone simulation environment. It is also available completely integrated with NX delivering a seamless CAD/CAE experience.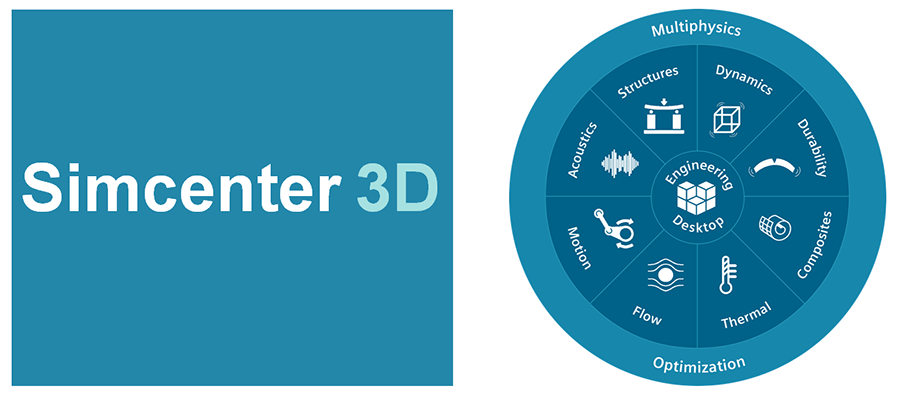 Simcenter 3D enables CAE teams to perform advanced analyses for structural, thermal, flow, motion, durability, laminates, or coupled physics. In addition to powerful analysis tools, Simcenter 3D is also one of the fastest, most productive pre-processors for generating accurate mesh data in 1D, 2D and 3D.
Key features of a Simcenter 3D solution include:
Enhanced ability to explore design alternatives and understand design/performance trade-offs
Reduced or eliminated need for physical prototypes slash cost and development time
Automated simulation procedures speed the simulation and development processes
Exceptional integration – Simcenter 3D integrates popular CAE tools such as NX Nastran and LMS Samcef. It also has environments that support other popular CAE solvers such as Abaqus, Ansys, LS-Dyna, and MSC Nastran.
On top of developing advanced Siemens PLM Software CAE products, our experts and engineers have helped countless customers find the optimal set of Siemens PLM Software CAE solutions that satisfy their needs. MAYA's "insider" knowledge of Siemens PLM Software solutions allows us to be your partner of choice when it is time to investigate Siemens PLM Software CAE applications.
To learn more about specific Simcenter 3D solutions, please find additional information below. Those marked with an * are products developed by MAYA.