Simcenter is the new Siemens PLM brand that targets the Predictive Engineering Analytics space
Simulation and Testing Solutions for Predictive Engineering Analytics
Simcenter is the new Siemens PLM brand that targets the Predictive Engineering Analytics space. The Simcenter portfolio includes the full breadth of software solutions in the 1D simulation, 3D simulation, and test domains.
The Simcenter portfolio includes several products such as 3d simulation (previously known NX CAE), LMS Imagine.Lab, Virtual.Lab, Nastran, Test.Lab, Samtech and Star-CCM+ from CD-Adapco.
Simcenter enables you to create a digital twin of your product, a multi-fidelity model that reflects reality and continually evolves throughout the product lifecycle to accurately simulate performance from concept through actual use. Simcenter helps you go beyond simple verification to performance prediction by combining simulation, physical testing and data analytics to spot unforeseen trends. Learn how Simcenter can help you make decisions with more confidence and deliver innovations sooner than ever before.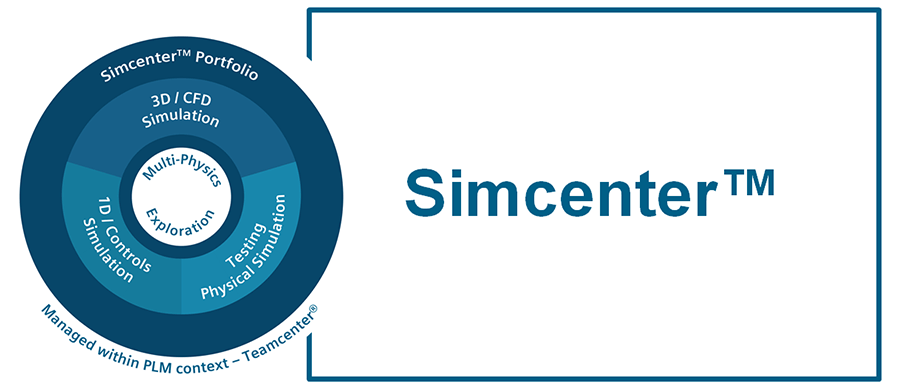 3D Simulation
Simcenter lets you predict performance of your 3D geometry based designs. Simcenter can import geometry from any CAD source and help you prepare analysis models in a unified environment for a wide range of CAE methods including finite element, boundary element, computational fluid dynamics, and multi-body dynamics. Simcenter's integrated high-end, multi-discipline solutions are scalable for use by general CAE analysts and discipline experts. Additionally, by linking 3D simulation to Simcenter's 1D and testing solutions, you can achieve unmatched accuracy.
Some of the products available in 3D Simulation
1D Simulation
Simcenter lets you predict product performance at the earliest stages of conceptualization using 1D simulation. With Simcenter 1D solutions, you can predict multi-domain system performance using a large set of pre-defined physical and application libraries and build realistic models for control strategy validation. You can use 1D and 3D models simultaneously to accurately capture the complete mulltiphysics behavior of your product.
Some of the products available in 1D Simulation
Simulation Data Management
Engineering teams generate huge amounts of data, but this data is usually not managed or tracked with good discipline. Simcenter solutions integrate with Teamcenter Simulation Process Management to make it easier for analysts to manage their data . Users are able to keep their analysis models and results in-synch with design. Simulation data management allows you to capture engineering knowledge and make it available for re-use by team members at a later date. By capturing and managing the data and processes, you build long term knowledge and value for your company.
Some of the products available in Simulation Data Management