3D thermal and fluid digital simulation for high energy performance BIM buildings and projects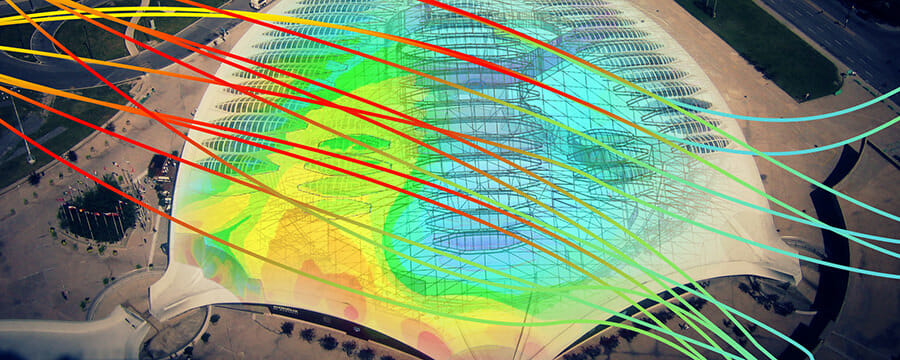 Maya HTT's services also provide solutions to engineers and architects, in order to discard or validate scenarios and make the right decisions on the following points:
Thermal comfort
Air quality and pollutant evacuation
Thermal bridges and calculation of the value "R"
Risk of condensation
Data Center / Data Center Energy Efficiency
AIR QUALITY – ASHRAE 62
AMT project / New train maintenance center at Saint-Charles station.
Context: The concentration of pollutants and the thermal comfort of buildings.
Objectives: To evaluate the location and performance of HVAC systems (AS) by analyzing air velocity and temperature profiles, ASHRAE 55, and the concentration of pollutants (NO2) from exhaust Diesel engines, ASHRAE 62.1
Benefits of the customer: Reduction in the number of aerotherms from 75 originally planned to only 25 heaters. Reduction of – 25% of the air distribution system while respecting the deadlines and the standards in force. PPP project.
* Video is in French only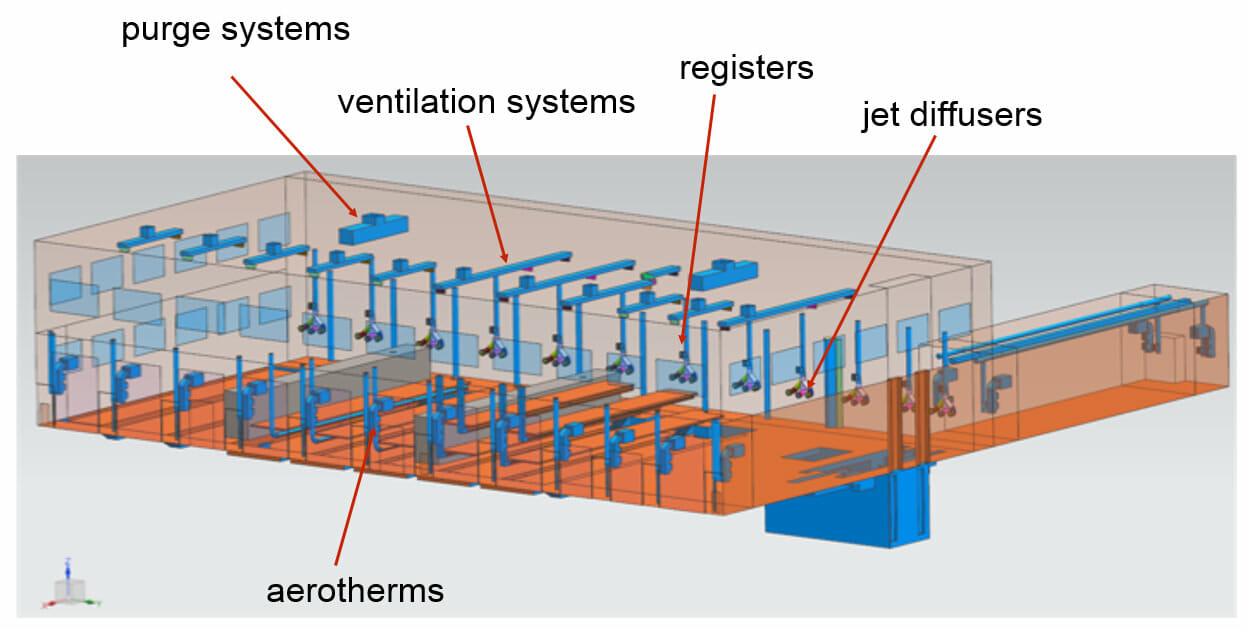 THERMAL BRIDGES AND CALCULATIONS OF THE "R"
ASHRAE 90.1, ASHRAE-1365RP / ASTM-1363. / Morrison Hershfield Study. The proof has been made that for complex geometries → conventional calculation tools can induce an overestimation of the R value by + 50% !!
Morrison Hershfield was the lead proponent of the ASHRAE 1365 thermal performance project for the high and mid-rise buildings. The correlation on test results has been successfully carried out on more than 40 different walls with the software developed by MAYA HTT: Simcenter 3D Thermal Flow (Siemens PLM)
CONDENSATION RISK
Project of the new curtain wall of the tower of the Montreal Olympic Stadium
Objective: Simulation of the location and start of condensation in extreme temperature conditions. Optimization of HVAC systems.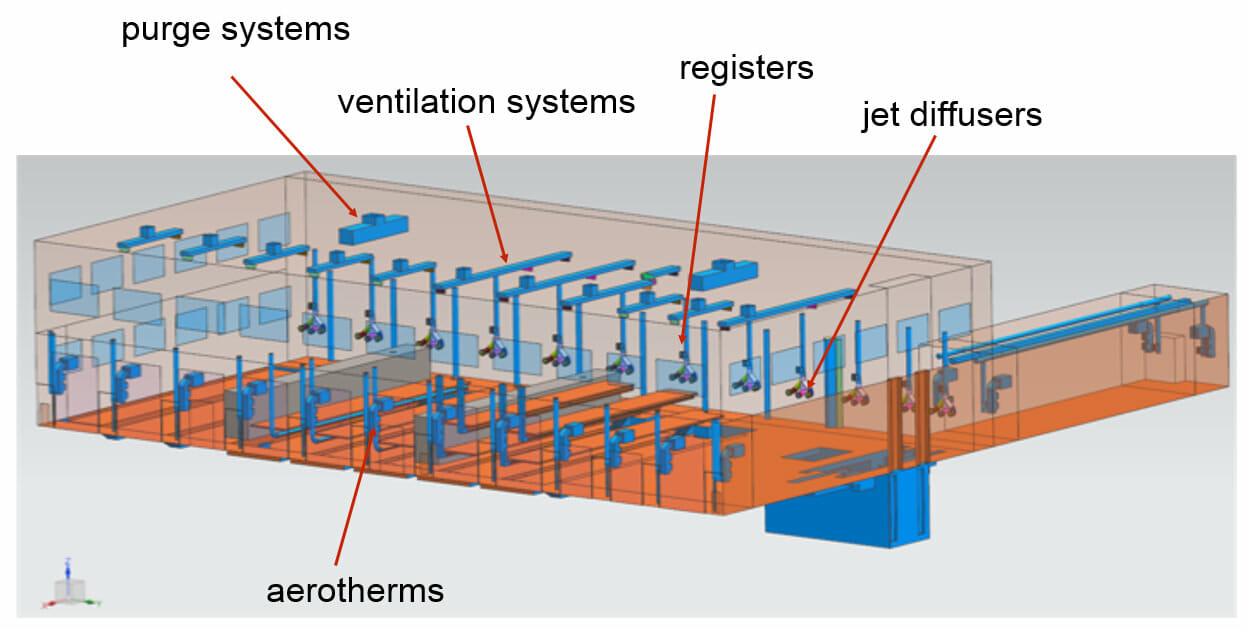 * Video is in French only
ASHRAE DATA CENTER TC9.9
Best Practices Review Project for a Major Federal Department Energy Conservation Measures. ASHRAE TC9.9
Objective: To reduce the amount of energy used for the operation of its buildings
Benefits of the customer: The cost of the analysis was recovered by energy savings obtained in only 3 months of operation!
We can also start from a preliminary geometry or 3D BIM model such as Revit, to easily obtain profiles of speed and temperature at any point in space, for many fluids such as air, water, NO2, gas, etc. The objective in this case is often related to the comfort of the occupants and the optimization of the HVAC systems.
Building façade system manufacturers, architects, and construction managers continue to push the envelope in building enclosure design. With energy efficiency a greater concern, new innovative designs demand more powerful engineering tools. 1D and 2D thermal simulation tools are no longer sufficient for the design and validation of build facades.
3D simulation is required to capture complex convection and radiation heat transfer effects. Maya HTT has helped to pioneer this growing industry requirement. With the development of NX Thermal and NX Flow, MAYA has created a powerful tool that architects and building engineers will find easy to use. To learn more about the growing requirement for 3D simulation you can see how our tools were used as part of the ASHRAE RP-1365.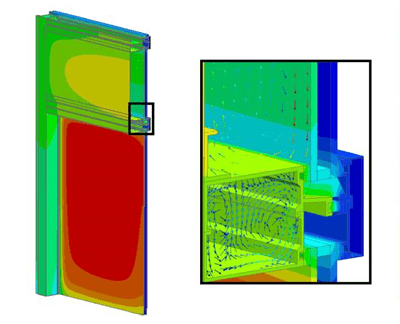 How can we help you?
Condensation Simulation to evaluate the moisture management capabilities of building envelope assemblies
Heat transfer modeling to evaluate the effective thermal resistance of building envelope components
Calculation of total glazing thermal performance indices (U-value, SHGC, SC, VT) and evaluation of condensation resistance (I-value)
Whole building energy simulation for analysis and compliance to energy codes and sustainability rating systems (LEED)
Life cycle assessment for whole buildings and assemblies
Computational fluid dynamics (CFD) analysis and visualization
Building envelope, mechanical, and lighting upgrade analysis and design
Thermal comfort analysis
Process
Flow analysis provides true 3D distributions of air temperatures and heat transfer coefficients

Eliminates guess work and approximations
Sensitive to local flow perturbations
Provides air movement and thermally induced stratification that influence film coefficients
Sensitive to connectivities between various 3D air cavities

Automated view factor calculations captures 3D radiation effects

Heater to window, floor, walls
Floor and walls to window

Heater control methodology establishes true heater temperature without guess work or trial & error

Steady state thermostat proportionally controls heater dissipation based on temperature of remote sensor
Important to properly simulate radiation effects

Software architecture facilitates easy removal and replacement of building components

Removal or addition of insulation
Removal or addition of baffles
Heater placement