Improves collaboration between electrical and mechanical designers
ELMA (Electrical Logical Mechanical Application) is the industry's leading standalone lightweight visualization tool for 3D CAD, Schematic and PCB layout with full mark-up and cross-probing. It enables engineering teams to look at MCAD and ECAD data simultaneously, allowing hassle-free review and sharing of design information.
ELMA is ideal for team members who aren't familiar with NX and ECAD authoring tools, and its easy-to-use interface ensures the active participation of all stakeholders in the design process. With full support for bi-directional cross-selection, mechanical engineers can use ELMA alongside NX to perform more detailed reviews for procedures such as assembly clearance analysis. ELMA also links to NX for full MCAD analysis.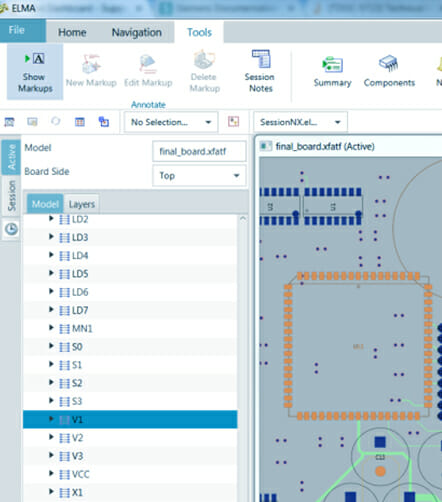 Links 3D models with their electrical schematics, enabling close synchronization and effective collaboration between mechanical and electrical designers, which saves time and helps prevent costly and time-consuming rework due to electro-mechanical issues.
It provides a complete picture of the system in production, empowering engineering teams to find the best design possibility, rather than using the first feasible design that comes to mind.
Bi-Directional Cross-Selection
Executes bi-directional cross-selection and presents a 360-degree view of the mechanical, electronic and design for components and traces (nets)
Design Review
Enables execution of design review from checklists loaded from manufacturers' process and facilitates the creation of mark-up comments and seamless sharing to all members of the engineering team.
Effective Comparison
Loads 3D mechanical designs from NX as well as PCB layout and schematic files from any ECAD system, enabling the running of comparisons between ECAD and MCAD components.

See how ELMA can help you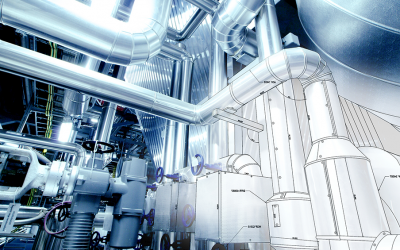 Find out how Bâtivac contributed to a quieter, tidier, and healthier parking environment for the CHUM's clientele. Maya HTT's expertise and analysis helped Bâtivac validate the ventilation system and reduce costs, contributing to building a truly safe and modern urban health facility.
Read more
Explore our expertise, services, and products:
Solutions for your industry
Maya HTT started out by helping to develop space exploration projects. The sky wasn't the limit. We now also develop for and offer products from Siemens Digital Industries Software. Are you looking for software solutions that specifically address your industry's needs?


Automotive & Transportation

Architecture, Engineering & Construction

Consumer Products & Retail

Electronics & Semiconductors


Machinery & Heavy Equipement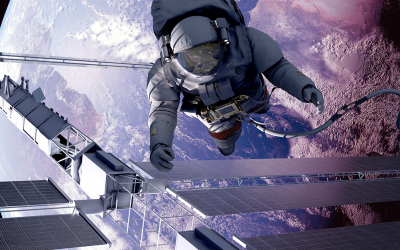 Imagine, for a moment, the kinds of buildings and infrastructure that would be needed to support a thriving human colony on Mars. How could we engineer safe and comfortable living conditions for such an inhospitable environment? As remote as a future colony on Mars may be, simulation provides a way to contemplate the possibilities.
Read more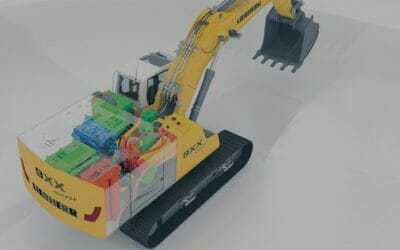 This Siemens' Community blog post takes a close look at a subject Maya HTT knows well: How digital twins and design space exploration can boost your innovation strategy and help you discover more efficient solutions.
Read more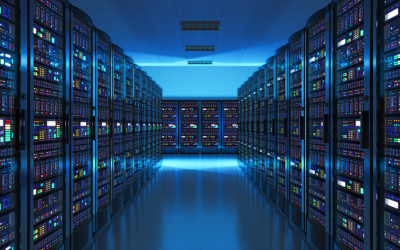 Datacenter management poses a high-stakes, multidimensional challenge. As errors can have disastrous real-world consequences, datacenter operators must use a variety of controls to ensure that operations continue smoothly.
Read more
Interested?
Contact us for more information.
Subscribe to our newsletter