PackageWright combines an on-line repository containing thousands of detailed package models with powerful footprint generation capabilities and an ECAD-MCAD library synchronization service
ECAD-MCAD library population, synchronization, and maintenance
PackageWright combines an on-line repository containing thousands of detailed package models with powerful footprint generation capabilities and an ECAD-MCAD library synchronization service. PackageWright enables PCB librarians, ECAD, and MCAD designers to improve the accuracy and efficiency of creating and maintaining high-fidelity component models to serve PCB layout and MCAD design requirements.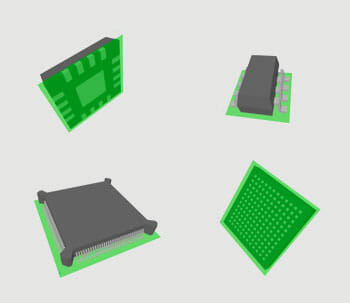 Extensible Repository
The PackageWright repository contains thousands of detailed three-dimensional models for a wide variety of standard package configurations. In addition to the package models provided, end-users can readily augment the repository with non-standard components such as connectors. Repository models contain an detailed geometric representation of the individual package terminals, body, and seating plane to directly support automated footprint generation and ECAD-MCAD library synchronization. PackageWright is the first technology capable of directly leveraging the detailed 3D STEP models provided by leading connector vendors such as Tyco, Molex, Samtec, and Amphenol for use in ECAD footprint generation. Using the internal PackageWright featurization capabilities, 3D models may be rapidly augmented with the necessary package features and pin numbers for inclusion in the repository. The PackageWright repository enables both standard and non-standard package models to be used in footprint generation, MCAD export, and/or ECAD-MCAD library synchronization.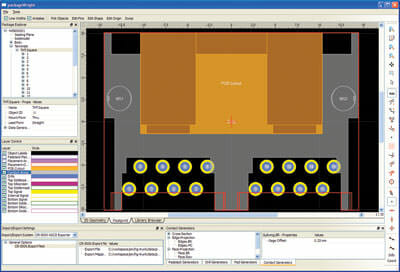 Footprint Generation
PackageWright provides powerful footprint generation capabilities for both standard packages and non-standard components such as connectors. A variety of pad, padstack, and symbol generation routines enable precise generation of footprints, keepouts, assembly, and design symbols derived directly from the detailed geometric model. Both area-based and line-based symbols can be automatically generated from the package geometry, and pads and padstacks can be positioned precisely with respect to terminal contact areas. In addition to the automated footprint generation routines, the editing environment enables access to powerful geometric processing capabilities such as area-based Boolean operations and offsets. The footprint generation routines are extensively configurable by the end user to enable consistency and compliance with internal company practices, EMS requirements, and established standards such as IPC-7351A. Footprints generated within PackageWright may be exported to a variety of ECAD platforms.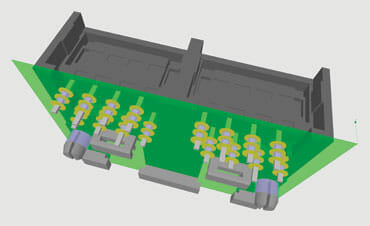 Library Synchronization
PackageWright enables ECAD-MCAD library interoperability through automated synchronization of ECAD library footprints and repository package models. Sophisticated searching and matching routines automatically identify packages with compatible contact areas from the repository and synchronize coordinate systems between the footprint and the package model. The resulting database of synchronized models is maintained by PackageWright to enable component mapping and substitution during ECAD-MCAD data exchange.