The Maya HTT-authored NX™ Electronics Systems Cooling (ESC) is an industry-focused simulation tool developed to meet the unique requirements of the electronics industry
Maya HTT has a long history in the electronics industry. From commercial products like cameras and phones, industrial applications like power converters, and even aerospace systems like avionics boxes, Maya HTT's software, training and consulting services add significant value, helping our customers deliver products to market more quickly and efficiently.
Maya HTT is an authorized reseller for Siemens PLM's NX™ and Teamcenter® software. These market-leading solutions provide state-of-the-art capabilities for systems and component development, spanning design and engineering to simulation and testing and then final assembly and product launch. Our knowledge of the electronics industry, combined with our ability to customize and extend the NX™/TeamCenter platform, enables us to help electronics companies fully harness this powerful software suite. Our specialized services to our software clients include process consulting, development and implementation of engineering methods, customized training, application development, and technical support.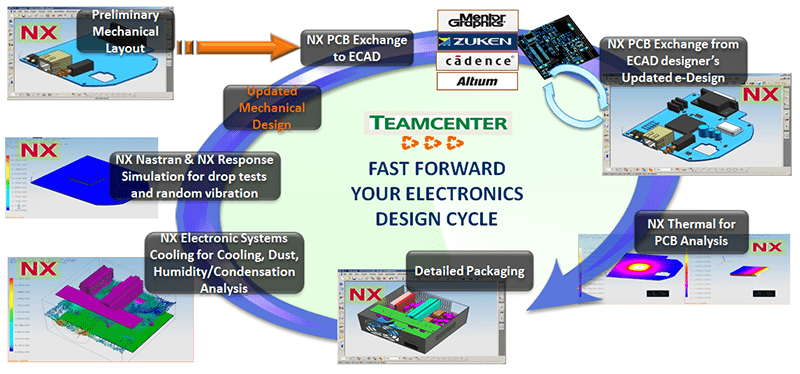 The Maya HTT-authored NX™ Electronics Systems Cooling (ESC) is an industry-focused simulation tool developed to meet the unique requirements of the electronics industry. Used to predict thermal failures, and optimize cooling strategies, NX™ ESC also provides specialized features to characterize printed circuit boards, and electrical components. Like all of Maya HTT's tools, it's fully embedded within the NX™ CAD/CAM environment, bringing design and analysis closer together, thus reducing time-to-market. Maya HTT's simulation tools are used extensively by a prominent aerospace company in the design and analysis of avionics equipment. Simulation allows them to predict product performance and make the necessary design changes in advance of costly physical prototyping.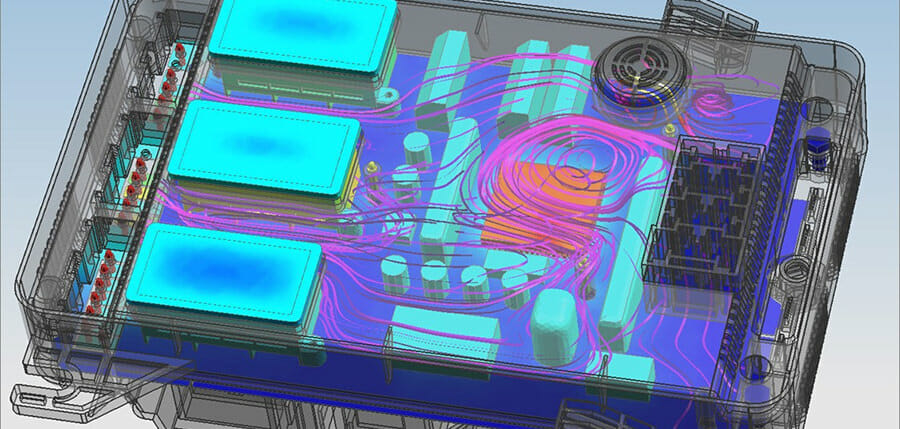 One of the major bottlenecks in electronics design is the lack of communication between mechanical and electrical designers. Each has their own requirements, whether optimizing space, or maximizing signal integrity. Maya HTT develops essential tools that bridge that gap. NX™ PCB Exchange integrates the NX™ product development suite with a variety electrical layout tools, both through industry-standard and proprietary interfaces. It facilitates true concurrent engineering, allowing mechanical and electrical designers to share and communicate their design intents. Maya HTT, through Siemens PLM, participated in the ProSTEP ECAD/MCAD Collaboration Implementer Forum, seeking to advance a new standard in data exchange. MAYA is also working closely with a major ECAD vendor to implement this new standard at one of the world's leading consumer electronics companies.
The Maya HTT team includes industry experts in both thermal and structural engineering, who can help analyze and optimize your electronics designs. Not only can we assess thermal and structural performance separately, we also have the expertise to consider combined thermo-mechanical performance of electronics enclosures. We harness this expertise to provide complete project support, or simply to provide expanded engineering capacity. Our services team has been leveraged successfully by a variety of companies, on a variety of projects, including LCD televisions, microwave communication components, spacecraft-installed control and data handling units, cabinet-sized power switches, room-sized solar power converters, and building-sized datacenters.
By working with Maya HTT, you can benefit from our unique skillset to accelerate and enhance your system development processes. Through our industry know-how, advanced software toolset, numerical simulation skills, and software development expertise, we have the resources to tackle your most advanced mechanical simulation challenges, and to ensure that your engineering methods are at the leading edge. Look to Maya HTT for outstanding service, unmatched breadth of expertise, and the highest quality support in the industry.