Harnessing the power of Artificial Intelligence (AI)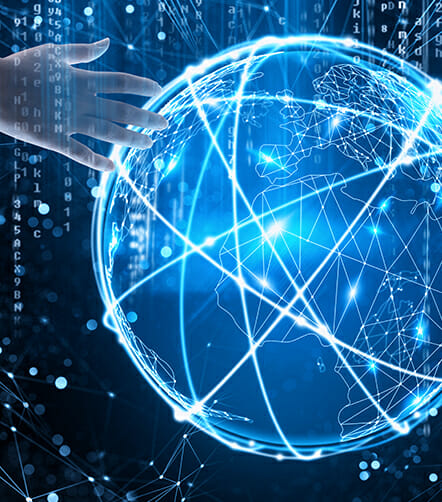 AI has profoundly changed how industries use computers to interpret data, and its implications for predicting outcomes, decision making, and classifying both abstract and complex information, to name but a few.  For some time, the researchers at Maya HTT have been investigating machine learning and deep learning, including deep reinforcement learning to improve our software solutions.
For example, one of research teams is investigating a prototype to use machine learning to improve the analysis of large scale models. We fully appreciate the potential of harnessing all types of AI and are excited to be a part of this frontier technology. 
The Call of AI for Engineers
Artificial intelligence (AI) has an enormous potential to advance industries and change the way we work, live, and create. As one of the most exciting technological developments in recent years,
AI is already a common part of modern life. It plays an important role in applications from self-driving cars to cancer diagnosis, automated financial market trading, and predictive maintenance.​
The benefi ts AI brings to industry and business are no longer accessible exclusively to Fortune 500 companies. In fact, with the availability of advanced algorithms, computational power, parallel
computing, and real-time data gathering via the internet of things (IoT) and the industrial internet of things (IIoT), AI is quickly becoming an essential part of any successful business strategy.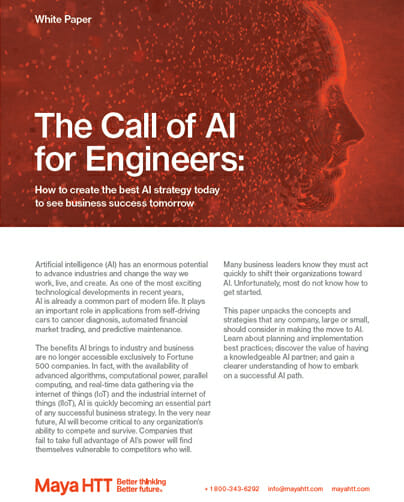 AI accelerates your company's digital transformation
The real challenge to capitalizing on advances in AI, machine learning and deep learning lies in not only having access, but also having the expertise to apply these technologies. The team at Maya has been customizing solutions for businesses to help them realize gains with advanced technologies.
Our AI readiness workshops allow you to discuss what is important to you, so we can understand your company's needs.
Explore our expertise, services, and products:
Learn how can companies better use AI technology?
The benefits of artificial intelligence are monumental. AI is about collecting and analyzing a mass amount of data. This data is only useful if you know what to do with it. How can artificial intelligence help analyze data more effectively and allow companies in the banking, insurance and manufacturing industries operate with greater efficiently? Every industry benefits from artificial intelligence. What can businesses do to maximize the power of artificial intelligence?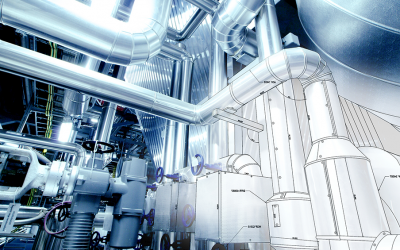 Find out how Bâtivac contributed to a quieter, tidier, and healthier parking environment for the CHUM's clientele. Maya HTT's expertise and analysis helped Bâtivac validate the ventilation system and reduce costs, contributing to building a truly safe and modern urban health facility.
Read more
Solutions for your industry
Maya HTT started out by helping to develop space exploration projects. The sky wasn't the limit. We now also develop for and offer products from Siemens Digital Industries Software. Are you looking for software solutions that specifically address your industry's needs?


Automotive & Transportation

Architecture, Engineering & Construction

Consumer Products & Retail

Electronics & Semiconductors


Machinery & Heavy Equipement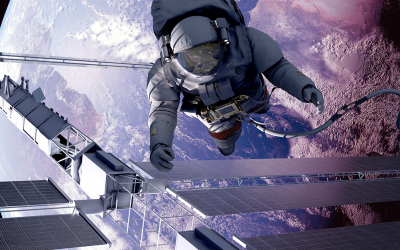 Imagine, for a moment, the kinds of buildings and infrastructure that would be needed to support a thriving human colony on Mars. How could we engineer safe and comfortable living conditions for such an inhospitable environment? As remote as a future colony on Mars may be, simulation provides a way to contemplate the possibilities.
Read more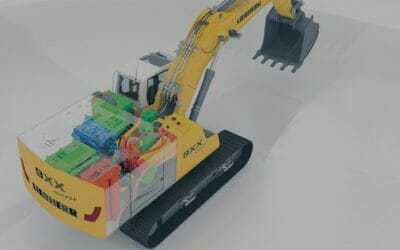 This Siemens' Community blog post takes a close look at a subject Maya HTT knows well: How digital twins and design space exploration can boost your innovation strategy and help you discover more efficient solutions.
Read more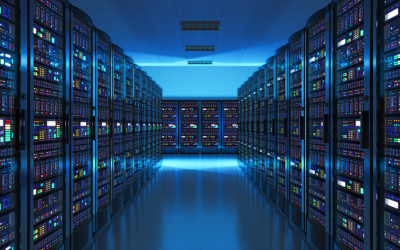 Datacenter management poses a high-stakes, multidimensional challenge. As errors can have disastrous real-world consequences, datacenter operators must use a variety of controls to ensure that operations continue smoothly.
Read more
Interested?
Contact us for more information.
Subscribe to our newsletter