With a fully optimized "Digital Enterprise," manufacturers are better equipped to initiate or respond to disruptive innovation
Realize innovation in the new era of industry transformation
Smart products are transforming every industry. Cars drive themselves. Machines self-replicate. Tattoos monitor your health. Today, entire markets can vanish with a single innovation.
How are manufacturers responding? Some are watching closely how products are being used and feeding data back from product utilization into product ideation and development to anticipate trends. But even if you knew what to make, you still have to make it. That's why manufacturing, the realization phase of innovation, is vital in this new era.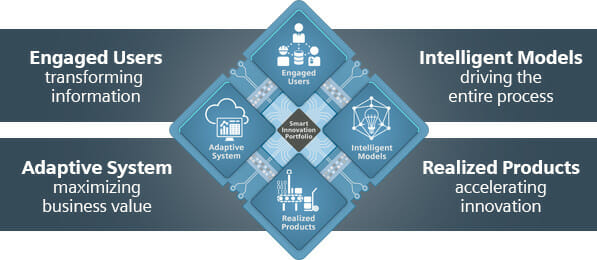 Maya HTT believes manufacturers must weave a digital thread through ideation, realization and utilization. It's not enough to digitize – mimicking processes digitally for incremental improvement. You have to digitalize – make the digital thread a proactive agent in driving your business. With a fully optimized "Digital Enterprise," manufacturers are better equipped to initiate or respond to disruptive innovation.
To help you activate digitalization, we're building a "Smart Innovation Portfolio" with:
Engaged users – receiving the right information in the right context
Intelligent models – knowing what they're meant to be and how they're made
Realized products – linking virtual development with real production
An adaptive system – maximizing business value today – and tomorrow.