Test for I-DEAS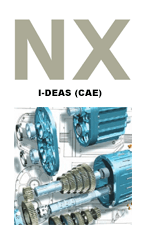 Test for I-DEAS is a sophisticated software solution for Noise & Vibration testing. Test for I-DEAS features modules that provide key features of the product. These include, data acquisition, modal analysis, test analysis correlation and signal processing.  Testing can be performed with variety of excitation methods, including random and sine.
In addition to the tools for analyzing test data, Test for I-DEAS software provides interfaces to control the leading test data acquisition hardware devices. These interfaces provide the flexibility of controlling your choice of acquisition test data hardware. You can acquire, manipulate, process, store and manage your test data from one single consistent interface using a variety of hardware options.
Test for I-DEAS turns your PC into a powerful dynamic signal analyzer. With the addition of data acquisition hardware it becomes a powerful data acquisition system capable of supporting hundreds of channels. In addition to processing live measurements, the modules also provide post-processing of previously stored time data.
Test for I-DEAS is compatible with Windows 8.