NX™ CAE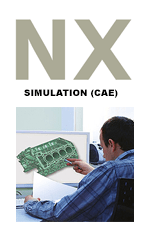 A key element to accelerating product development is faster, more effective simulation. Better simulation means earlier identification of potential problems, reduced (or eliminated) need for physical prototypes, and simpler exploration of design alternatives.
NX™ from Siemens PLM Software enables all of this – and more. NX™ enables CAE teams to perform advanced analyses for structural, thermal, flow, motion, durability, laminates, or coupled physics. In addition to powerful analysis tools, NX™ is also one of the fastest, most productive pre-processors for generating accurate mesh data in 1D, 2D and 3D.
Key features of an NX™ CAE solution include:
Enhanced ability to explore design alternatives and understand design/performance trade-offs
Reduced or eliminated need for physical prototypes slash cost and development time
Automated simulation procedures speed the simulation and development processes
Exceptional integration – NX™ can incorporate other popular CAE tools into a native NX™ environment
On top of developing advanced Siemens PLM Software CAE products, our experts and engineers have helped countless customers find the optimal set of Siemens PLM Software CAE solutions that satisfy their needs. MAYA's "insider" knowledge of Siemens PLM Software solutions allows us to be your partner of choice when it is time to investigate Siemens PLM Software CAE applications.
To learn more about specific NX™ CAE solutions, please follow the links below. Those marked with an * are products developed by MAYA.